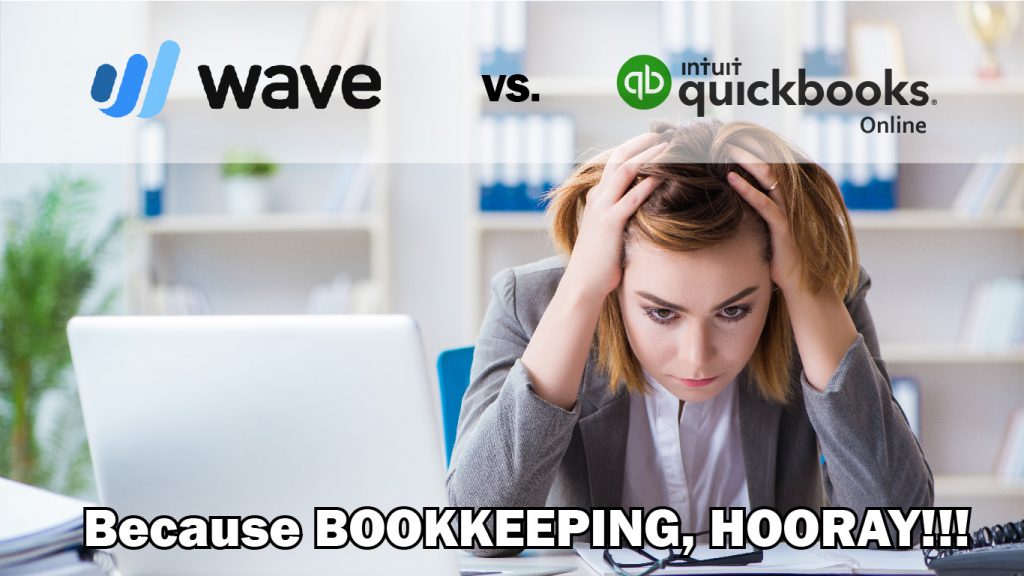 How to make the best choice for your business
Are you trying to decide on the right accounting software for your business? Not sure where to start? Let me guide you through the decision-making process. This isn't a typical comparison blog post. There aren't any grids with features or check marks. Just a thoughtful way to figure out what will work for you and your business.
The first thing people usually ask about an accounting app is "how much does it cost?" Many people are attracted to Wave because it's free (QuickBooks is $5 – $40/month depending on the features you need). But just because you don't pay any money for it doesn't mean it's actually free. Your time and sanity are worth something.
Rather than the cost, the first question you should be asking is "what do you need it to do?" Maybe you're just starting out and all you really need is to track the cash going in and out of a one bank account. Maybe you have a more complex company and you need it to run payroll or track inventory. Whatever the case, it's important to know what your goals for the system are before you start looking. As you get into the bells and whistles of what an accounting app can do, it can be easy to miss the important stuff.
Don't Get Distracted
Here's how to know what you need:
How many transactions go through your bank and credit card accounts every month?
By transaction I mean any time money goes in to or comes out of your bank account or credit card. Both Wave and QuickBooks allow you to connect your bank and credit card account to their apps (they call it a "bank feed"). Doing this will automatically pull your transactions into the system. The interface looks like a big list.
Now you become like an octopus in a mailroom – a sorting machine putting everything in the right boxes. In other words, telling the app why you spent or received the money in the list.
QuickBooks will recognize transactions that happen often and suggest the account you normally use. It also allows you to setup an "auto-add" function. So, for example, if you have a telephone bill that you pay to the same company every month, you can setup a rule to "auto-add" that transaction to the Telephone Expenses account whenever it's paid – eliminating the need for you to sort it every month.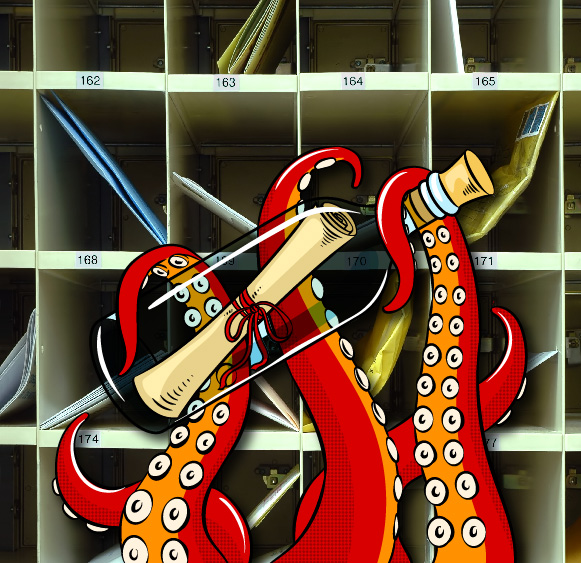 You become an octopus in a mailroom. Not like a health and-safety violation… but a metaphor for efficiency.
Wave doesn't have this functionality. You'll have to sort each transaction manually. If you have less than 25 transactions per month, and between one and three accounts (credit cards count as accounts), doing this sorting manually might be ok. If you have more transactions and/or more bank and credit card accounts, it'll become tedious and time consuming to have to manually go through each one.
What information do you need from your accounting data?
Once your information is entered into the system, it's important to be able to get it out again in a useful way. For example, if you owned a bakery, you'd want to know how much you were making from selling peanut butter cookies, and how much you're spending on ingredients. You'd probably also want to know how much money you owe to suppliers and how much cash you have in the bank. These are fairly simple requests from your data. Both Wave and QuickBooks handles them very well.
If you need something more complicated, like maybe you need to track inventory, or you'd like to see how much cash you're spending versus how much you're bringing in, then you'll need a more robust system like QuickBooks.
How comfortable are you with bookkeeping?
Does the idea of bookkeeping make you want to hide under your blankets? If the thought of managing your books already has you rolling your eyes, it's even more important you find an accounting app that will relieve stress, not add to it.
Does the idea of bookkeeping make you want to hide under your blankets? If the thought of managing your books already has you rolling your eyes, it's even more important you find an accounting app that will relieve stress, not add to it.
It's important that you are comfortable knowing how to navigate the app and having support on-call for when things inevitably go sideways. For the most part, both QuickBooks and Wave have an intuitive interface that will guide you down the path of financial clarity.
A notable difference is in the list of transactions that comes from your bank account – the bank feed we talked about earlier – and the support.
Bank Feeds
It's not uncommon for a business to have more than one account. For example, your bank account where money is deposited, and a credit card used for business expenses.
Wave will dump all your accounts into a single list of transactions. Although it tells you which account each line belongs to, this combined list was not built for easy understanding.
Even more confusing with Wave is trying to reflect a transfer between your accounts (ie: paying off your credit card from your bank account). The app is counter-intuitive and, especially if your banking data is not able to automatically connect, this simple action can be a real headache. Even I was yelling at my screen the first time I encountered this.
QuickBooks handles your bank feeds by having separate lists for each account. Visually, it makes a lot more sense. It will also allow you to make transfers between all your accounts, and often is able to automatically find the corresponding transaction. From that perspective it's an easier system to use.
Another important piece of recording your bank transactions is matching them up to your bank statement (called reconciling). If you're not doing this monthly there's a risk your books will be incorrect. Wave doesn't have a built-in area to do this, but QuickBooks does and it's very easy to use.
I Broke It, Now What?
Support and training on your accounting app are so important. If you don't know how to use it properly and you're on your own if something breaks, it's going to be frustrating and you'll (probably) stop doing it.
QuickBooks has an extensive help section (including how-to videos), live support, and a community of experts. It's all included in the price of your subscription.
Wave has a support centre and a community section of their website as well, but Wave offers something QuickBooks doesn't, paid access to accounting and bookkeeping professionals. You can pay a one-time fee to have an accountant to coach you one-on-one for two hours, and then you can email them for 30 days. Wave also offers a bookkeeping service for a monthly fee.
Getting Paid
When it comes to invoicing, Wave and QuickBooks are similar. They both allow you to create custom invoices, but to varying degrees, and both allow you to send invoices and receive payments through the app for a comparable fee.
Wave allows you to upload your logo and change some of the words on the invoice, but that's about it.
QuickBooks has a fully customizable invoice builder right in the app.
Do you use other apps in your business?
Are you using a Customer Relationship Manager app to manage your customer contacts? Do you have employees you need to track time for? Are you a retail store with a cash register? Having these apps connect to your accounting software makes life a lot easier.
QuickBooks can connect to almost any app. There's also a very long list of apps specifically designed for QuickBooks. You could connect an app to make sure you pay suppliers on time, collect and manage your receipts, manage your employees and the list goes on.
Wave has three apps that you can connect. And because of the way it was designed, it's unlikely to have many more in the future. If you're just starting out this may not be a big deal, but it's something to keep in mind as your business grows.
Safety Equipment Required
If you don't have much experience with bookkeeping, you can make a mess of your records. For example, if you found out there was an error in an invoice that had already been paid, Wave would allow you to delete it. That's a problem because deleting that invoice will have a domino effect through your books creating errors as it goes. QuickBooks won't allow you do something that will have pervasive effects like that.
Wave also doesn't keep track of any changes. This is one of those things that you don't know you need until it's too late. If you don't have this log of your bookkeeping, you'll have a harder time proving it's for real if you get audited by the government.
QuickBooks has an internal audit log. Every transaction and every edit of a transaction is logged, including the time, date, what was changed and who did it. If you have an issue later, it's great to be able to dig in to this log and find out what happened.
Just tell me what to do…
If you have a small business with few transactions and simple bookkeeping requirements, Wave will be ok.
If you're not sure whether your company is too big for Wave or not, it probably is or will be soon.
As your company grows and your requirements become more complicated, it's worth it to switch to QuickBooks.
Getting your business in to QuickBooks sooner rather than later will ensure you're prepared for the next growth spurt. Grandma was right when she said "you'll grow into it!"
Wave is free, but it could end up being more expensive in the long run. How much is your time worth? If QuickBooks could save you an hour a month, would it be worth $40/month? What about two hours? The point is this, your time is worth something.
Smart money management is not about paying the least amount for everything. It's about paying the right price for the right service at the right time.
Kaitlin