This morning I went to drop off some tax papers to a client. She had some great questions, so I spent 40 minutes explaining how her tax return worked, and going over some of her previous year's returns. She was trying to get an idea of how the various pieces of a year of her life could be summed up in a bunch of numbers grouped together on far too much paper.
She's a very smart person, but was never taught how all this works, and that seems to be the case with most people.
That's really sad. Partly because it's a life skill we should all learn as teenagers, and partly because I love it and I want other people to experience the same joy when they do their taxes. Ok, maybe joy is pushing it, but if we strive for joy and land on something a little more positive than dread, that's a win.
I like to think of taxes as that scary kid in class with the mohawk. The one that most kids were a little afraid of, but once you got to know them they weren't so bad.
Love of Taxes: The Origin Story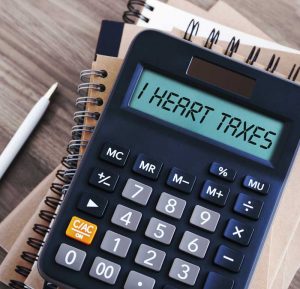 When I was 15 my Dad showed me how to do my taxes. At the time we were doing them by hand, so I had my pencil and my calculator out, and we would go through every line. My return was very simple at that point because I only had one T4, but it was so fun. How could get as much back as possible? How can I play the government's game and win? (without cheating though, 'cause I'm not in to that).
Then one day I was hanging out with my group of friends and I noticed one of them had "T4" written on his hand. I asked him "hey, are you doing your taxes?" He said I was the only person who knew what that meant. I jumped on the chance. "You want help?!"
By the time I was 16 I was doing all my friend's taxes… by hand.
I don't do them by hand anymore, but I'm still doing my friend's taxes. Every now and again they'll get a Notice of Assessment from the CRA (Canada Revenue Agency) asking for proof of expenses, like child care receipts for example, and it's presumed the tax return was filed incorrectly until they see and approve those receipts. (The CRA doesn't believe in innocent until proven guilty, you're wrong until you can prove otherwise).
Surprise bills are never fun, but it seems to be so much worse when they come from the CRA. It feels like those bills are written in some kind of code, and you have no idea what they're asking for. So frustrating.
These stress-inducing letters are exactly why I think we should starting learning about taxes as teenagers. Guess what though, it's not too late to learn!
As adults we can learn how our taxes work, and remove the uncertainty and stress that comes with them. Even if we never want to actually prepare our own taxes, we can still have a better understanding of how it all works, and be able to have more informed discussions with our tax professionals.
This is especially true for sole proprietors. Our business taxes and our personal taxes are one and the same, so having an understanding of the system is part of doing business. How much should I set aside from every sale? What expenses can I deduct? Do I need to charge sales tax? How does that work?
As your business becomes more complex, so do your taxes.
The first step to reducing tax stress is to be organized with your paperwork, Don't think of taxes as a once a year event, think of them as something you maintain. It's like oral hygiene. If you only brush your teeth once a year, things are going to get gross.
The best results come from healthy tax habits like regular receipt management and bookkeeping.
Kaitlin